Thanks to our SPONSORS,
to all of the BREWERIES/VENDORS
and especially to all of our GUESTS
for making the 6th Annual (2013)
Lincoln Lager Barleyfest a huge success and a TON of fun!
---
Our 2013 event supported the Merrill Park Endowment fund. We were able to contribute $4000 to this worthy cause!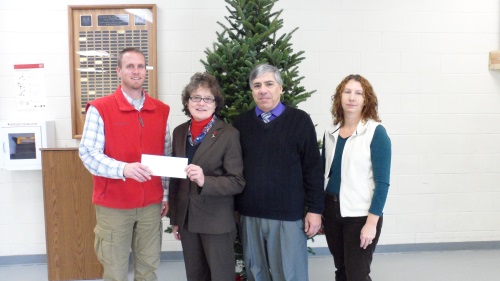 ---
---

Congratulations!

Dave Teeples of Merrill won the Kegerator!

The Danby Designer® portable keg cooler takes beer drinking to a whole new level. With room for full or pony sized kegs, this cooler also converts to a 5.8 cu. ft. all fridge for maximum versatility. Features include an easy-to-program electronic thermostat, a scratch resistant work top for storing accessories and a stainless steel door. Designed for indoor use this keg cooler is perfect for parties or watching the big game. Co2 tank and drip tray are included.

---
| | |
| --- | --- |
| Featured Sponsors: | Brewers: |
| Dave's County Market | Bull Falls Homebrewers Club |
| Fox 55 | Bear Republic |
| Merrill Parks and Recreation | Blue Moon |
| Merrill Youth Hockey | Capital Brewery |
| Park City Realty | Chameleon Brewing |
| Sports Fan 100.5 FM (ESPN Radio) | Finnegans Irish Amber |
| The Patriot Radio 730 AM | Goose Island |
| Z104 FM | Hydro Street Brewing Co. |
| Merrill Area Chamber of Commerce | Hinterland |
| | Horny Goat Brewing Company |
| Half Barrel Sponsors: | Keweenaw Brewing Co. |
| Auto Jockeys | Lakefront Brewery, Inc. |
| b.a.m. technology | Lucette Brewing Co. |
| Ballyhoos Bar | Leinenkugel's |
| The Beacon Bar | Lithia Beer |
| Burgener Contract Carriers | O'so Brewing |
| Chips Hamburgers | New Belgium Brewing |
| Cosmo Theater | Northwoods Brewing |
| Courtside Furniture | Pangaea Beer Company |
| Becher Hoppe | Point Beer |
| Hargrave Appliances | Potosi Brewing Company |
| Merrill Federal Savings and Loan | Pecatonica Beer Company |
| Associated Bank | Redhook Brewery |
| Merrill Sheet Metal Works | Rhinelander Brewing Company, LLC |
| Miller's Home Furnishings | Sand Creek |
| One Way Collision Center | Shiner Beer |
| Richardson Photography | Summit Brewing Company |
| Russ Davis | Sprecher Beer |
| Schaeffer Manufacturing Co. | St Francis Brewing Company |
| Strasser & Yde | Tyranena Beer |
| The Dugout Bar | Tallgrass Brewing Company |
| Pagel's Pub N Grug | City Brewery – LaCrosse, WI |
| Ye Olde Sweet Shoppe | |
| Dynamo Creative Marketing | Spirits / Wine |
| Auto Trim of Wausau | White Winter Winery |
| River Valley Bank | Copa Di Vino |
| Saloons N Spoons | Von Stiehl Winery |
| AmericInn Lodge & Suites | |
| | |
| | Malt Beverages |
| | Woodchuck Cider |
| Quarter Barrel Sponsors: | Redd's Apple Ale |
| R.T.L. Electric | Mike's Hard Lemonade |
| Wisco Security Agency | Ciderboys |
| Richard Mamer Accounting | |
| Eagles Club | Non-Alcoholic |
| Humphrey's Pub | Sprecher Rootbeer |
| | 1919 Draft Root Beer |
| | FrostTop |
| | Xyience Energy Drinks |